Clan Arena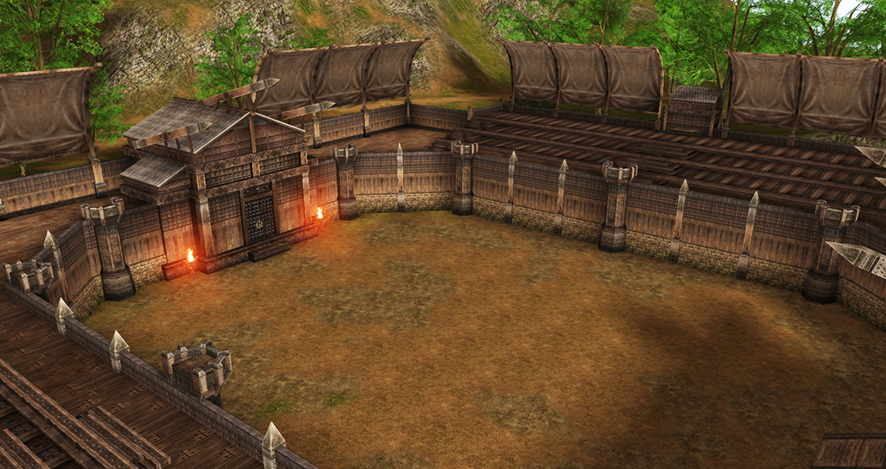 Contents
Overview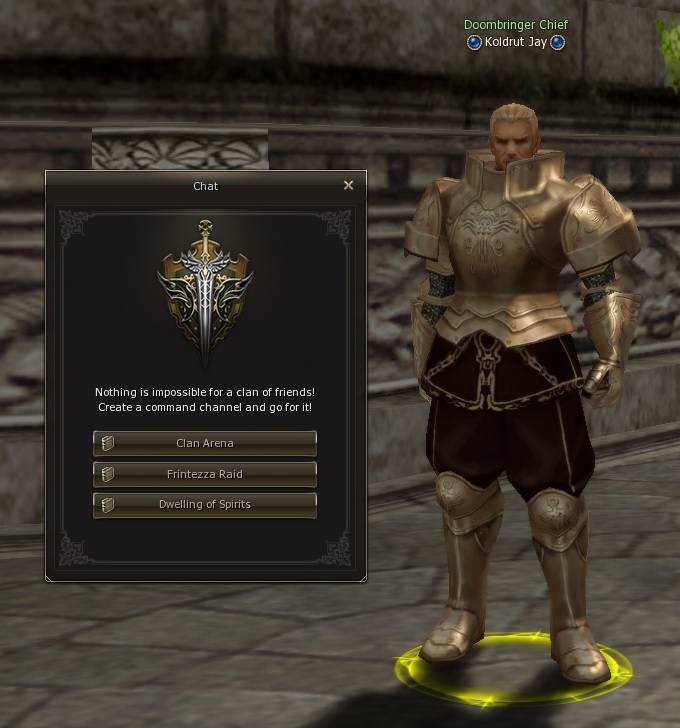 Clan Arena is an instance zone where clans can test their strength fighting special monsters and bosses. Valuable rewards are given for clearing arena levels.

To go to the Clan Arena,

talk to Doombringer Chief Koldrut Jay in Aden.
To enter, you must be in a command channel with your clan members.
Maximum 40 characters can enter in one go.
You have 30 minutes for fighting arena monsters. You can pay

1,000,000

adena to the Arena Machine to prolong your raid up to 5 times. Each payment adds 1-3 minutes (5 in a rare occurrence) to your timer.
You can complete up to 4 arena levels in one go.
Your progress is saved and doesn't reset.
The access to the Clan Arena is renewed every Wednesday at 6:30 a.m. (server time).
You don't lose XP when dying in the arena.
Guide
Clan Arena consists of 25 levels. Each level ends with a boss fight.
To start the raid, interact with the Arena Machine. The time counter is shown in the upper part of your screen. It appears after interacting with the Arena Machine.
After defeating a level boss, supplies appear on the arena. Click on them to receive a reward. Each character can get only one reward at a time. To open supplies, you must be Lv. 40 or higher. You have 1 minute to collect them, the raid time counter is stopped at that time. After 1 minute, all uncollected supplies disappear and the next level monsters are spawned.
If your clan has already cleared some levels on the Clan Arena, the 'Previous level' button becomes available when interacting with the Arena Machine. Click on it to fight the last boss from the previous raid.
Bosses appear in a certain order:
Level
Boss
Level
Boss
Level
Boss
1
Kutis
11
Ketran
21
Shadai
2
Garan
12
Death Lord Likan
22
Turabait
3
Batur
13
Anbarad
23
Tier
4
Venir
14
Baranos
24
Cherkia
5
Oel
15
Takuran
25
Spicula
6
Taranka
16
Nast
7
Kasha
17
Keltar
8
Dorak
18
Satur
9
Turan
19
Kosnak
10
Varkan
20
Garaki
Rewards
Arena Supplies
According to your Clan Arena level, you can obtain the following items from the supplies:
Clan Skill
A new clan skill is added for killing the boss of the Clan Arena's 5th level. The skill is upgraded after clearing the 10th, 15th, 20th and 25th arena levels.
Monsters